On a board of a game with point-to-point movement, there are certain spots that can be occupied by markers or figurines, e. g. cities on a map. These points are connected by lines, and movement can only happen along these lines. It is not enough that two points are next to or close to each other; if there is no connecting line between them, a player cannot move his or her piece from one to the other.
Examples for point-to-point movement: Nine Men's Morris, Kensington, Friedrich.
Non-intuitive example for point-to-point movement: Risk. While Risk appears to be an Area Movement game like Axis & Allies, it is actually a point-to-point movement game, due to impassible water areas requiring overwater line connections (e.g. Japan, Brazil, Australia).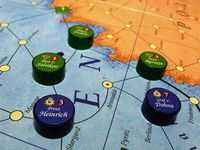 Pictured above: Point-to-point movement in Friedrich.
| | Sort: Category: Mechanic: |
| --- | --- |
| | |
| --- | --- |
| Rank | N/A |
| Num Ratings | 11 |
| Average Rating | 6.89 |
| Average Weight | 3.00 |

| | |
| --- | --- |
| Num Owned | 63 |
| Prev. Owned | 4 |
| For Trade | 3 |
| Want in Trade | 2 |

| | |
| --- | --- |
| Wishlist | 23 |
| Comments | 14 |
| Year Published | 2014 |

| | |
| --- | --- |
| Rank | N/A |
| Num Ratings | 0 |
| Average Rating | 0.00 |
| Average Weight | 0.00 |

| | |
| --- | --- |
| Num Owned | 3 |
| Prev. Owned | 0 |
| For Trade | 0 |
| Want in Trade | 0 |

| | |
| --- | --- |
| Wishlist | 0 |
| Comments | 0 |
| Year Published | 2013 |

| | |
| --- | --- |
| Rank | N/A |
| Num Ratings | 15 |
| Average Rating | 5.93 |
| Average Weight | 2.00 |

| | |
| --- | --- |
| Num Owned | 51 |
| Prev. Owned | 11 |
| For Trade | 3 |
| Want in Trade | 4 |

| | |
| --- | --- |
| Wishlist | 8 |
| Comments | 9 |
| Year Published | 1985 |

| | |
| --- | --- |
| Rank | N/A |
| Num Ratings | 7 |
| Average Rating | 9.00 |
| Average Weight | 1.00 |

| | |
| --- | --- |
| Num Owned | 14 |
| Prev. Owned | 0 |
| For Trade | 2 |
| Want in Trade | 1 |

| | |
| --- | --- |
| Wishlist | 5 |
| Comments | 4 |
| Year Published | 2018 |

| | |
| --- | --- |
| Rank | N/A |
| Num Ratings | 4 |
| Average Rating | 6.75 |
| Average Weight | 2.00 |

| | |
| --- | --- |
| Num Owned | 12 |
| Prev. Owned | 0 |
| For Trade | 0 |
| Want in Trade | 1 |

| | |
| --- | --- |
| Wishlist | 4 |
| Comments | 3 |
| Year Published | 2008 |

| | |
| --- | --- |
| Rank | N/A |
| Num Ratings | 23 |
| Average Rating | 6.85 |
| Average Weight | 2.00 |

| | |
| --- | --- |
| Num Owned | 37 |
| Prev. Owned | 8 |
| For Trade | 2 |
| Want in Trade | 10 |

| | |
| --- | --- |
| Wishlist | 32 |
| Comments | 13 |
| Year Published | 2011 |

| | |
| --- | --- |
| Rank | N/A |
| Num Ratings | 21 |
| Average Rating | 6.53 |
| Average Weight | 3.00 |

| | |
| --- | --- |
| Num Owned | 252 |
| Prev. Owned | 10 |
| For Trade | 6 |
| Want in Trade | 2 |

| | |
| --- | --- |
| Wishlist | 18 |
| Comments | 13 |
| Year Published | 2015 |

| | |
| --- | --- |
| Rank | N/A |
| Num Ratings | 23 |
| Average Rating | 6.90 |
| Average Weight | 1.50 |

| | |
| --- | --- |
| Num Owned | 52 |
| Prev. Owned | 6 |
| For Trade | 1 |
| Want in Trade | 3 |

| | |
| --- | --- |
| Wishlist | 13 |
| Comments | 15 |
| Year Published | 2008 |

| | |
| --- | --- |
| Rank | N/A |
| Num Ratings | 1 |
| Average Rating | 5.00 |
| Average Weight | 0.00 |

| | |
| --- | --- |
| Num Owned | 1 |
| Prev. Owned | 0 |
| For Trade | 0 |
| Want in Trade | 1 |

| | |
| --- | --- |
| Wishlist | 13 |
| Comments | 1 |
| Year Published | 0 |

| | |
| --- | --- |
| Rank | N/A |
| Num Ratings | 8 |
| Average Rating | 7.69 |
| Average Weight | 4.00 |

| | |
| --- | --- |
| Num Owned | 25 |
| Prev. Owned | 1 |
| For Trade | 0 |
| Want in Trade | 0 |

| | |
| --- | --- |
| Wishlist | 0 |
| Comments | 2 |
| Year Published | 2006 |