| | Information |
| --- | --- |
| | |
| --- | --- |
| Board Game | |
| Name | |
| Version Nickname | |
| Alternate Nickname | |
| Version Publisher | |
| Version Artist | |
| Year Released | |
| Product Code | |
| Dimensions | 7.50 x 11.00 x 2.75 inches |
| Weight | |
| Languages | |
| Release Date | |
| Release Comment | |
| Release Status | |
| Pre-order Type | |
| Pre-order URL | |
| Pre-order Start Date | |
| Pre-order End Date | |

Fans: 0

Become a Fan

Corrections
Clone
Customize View
RSS Feed

ObjectID: 231928
2005 cover does not have the Überplay logo unlike 2006 cover.
Also, the back cover does not show the board and components unlike 2006 back cover.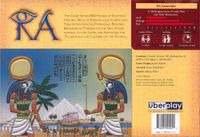 2005 edition back cover
In the 2005 edition, tiles come already punched out and inside a sealed plastic bag and includes a textured black cloth bag.
2005 edition right out of the box