Guild
Guild:
Category:
Website:
Created On:
2012-03-22 08:43:08
Members:
8
Location:

Addr1:

Platenmakerstraat 3

Addr2:
City:

Nijmegen

State/Province:

Gelderland

Country:

Netherlands

Postal Code:

6511 TZ

Manager:
Collections:
Browse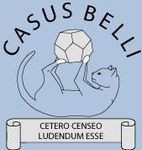 Casus Belli is een spellenvereniging gevestigd in Nijmegen. We spelen rollenspelen, bordspelen, kaartspelen en conflictsimulaties. De vereniging komt bijeen op iedere zondagmiddag vanaf 14.00 uur in:
Café De Verdieping
Platenmakersstraat 3 in Nijmegen
Casus Belli is in 1988 opgericht om spellen te kunnen spelen. Dat ging in eerste instantie vooral om conflictsimulaties (wargames) en rollenspelen. Tegenwoordig ligt het accent meer op bordspelen. We tellen inmiddels meer dan 40 leden.
De vereniging heeft een verzameling van ruim 80 spellen in bezit. Deze worden vooral op zondag gespeeld. Een andere langlopende activiteit binnen de vereniging is het wisselrollenspel. Hierbij worden elk kwartaal door een aantal Gamemasters verschillende rollenspellen aangeboden. Spelers komen daarna eens in de twee weken bijeen om een kortlopend rollenspel te spelen. Na 7 sessies start er een nieuwe cyclus en worden er weer nieuwe rollenspelen aangeboden door nieuwe Gamemasters. Op deze manier kunnen Gamemasters en spelers makkelijk kennis maken met verschillende soorten rollenspelen. De vereniging stelt verschillende soorten rollenspelmaterialen gratis ter beschikking aan Gamemasters.
Casus Belli is a gaming association based in Nijmegen, the Netherlands. We play Role Playing Games, Boardgames, Cardgames and Wargames. We gather each sunday afternoon at 14.00 hrs at:
Café De Verdieping
Platenmakersstraat 3 in Nijmegen, the Netherlands
Casus Belli was founded in 1988 to play games. At first these were mostly conflict simulation en rpg's. Nowadays the focus has shifted towards boardgames. At the moment we have over 40 members.
Casus Belli has a collection of over 80 games. These are mostly played at the sunday gatherings. Another longlived tradition within the association is the Wisselrollenspel. Where gamemasters will offer varying rpg's on a quarterly basis. Players gather biweekly to play a short running rpg. After 7 sessions a new cycle will be started by new gamemasters. This means players and gamemasters alike get the opportunity to try out new settings and systems without having to commit to a long term campaign. Casus Belli provides the gamemasters with a variety of RPG materials and sourcebooks.
This page does not exist. You can edit this page to create it.