Guild
Guild:
Category:
Created On:
2013-03-25 08:31:12
Members:
216
Location:

Addr1:
Addr2:
City:

Raleigh

State/Province:

North Carolina

Country:

United States

Postal Code:

Manager:
Collections:
Browse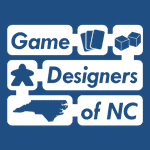 Follow us on Twitter @GDofNC or on Facebook. You can find more information about us on our website at gdofnc.com.
We are an inclusive group of game designers in North Carolina co-operating to improve our work, promote our products, and welcome new game designers to the industry. We collaborate to playtest and critique game designs, offer advice to game designers, and render assistance to members in finding publishers for their designs.
Current schedule of meetings
Asheville
Every odd-numbered Wednesday from 6-9pm at The Wyvern's Tale
Every odd-numbered Saturday from 3-6pm at Buncombe County Sports Park's covered tables
See the calendar below for dates
Charlotte
First Thursday of every month starting at 6pm at the Draft Mechanic event hosted at Good Road Cider Works
Third Wednesday of every month starting at 6pm at the Potions & Pixels event (hosted at 7th Street Public Market)
Triangle
Second and fourth Thursday of every month starting at 6pm at The Gamer's Armory in Cary, NC
First Thursday staring at 6pm and third Saturday starting at 2pm of every month at Atomic Empire in Durham, NC
Published designs
All designs published by members are found in the Organizations: Game Designers of North Carolina family.
Podcast
We also have a podcast! You can find discussion for the podcast in our podcast guild.
This page does not exist. You can edit this page to create it.