Guild
Guild:
Category:
Website:
Created On:
2013-05-13 10:41:03
Members:
58
Manager:
Collections:
Browse
Welcome to the Counter Magazine Guild.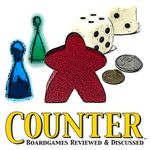 Counter magazine is a quarterly electronic magazine devoted to board and card games. Each issue contains dozens of reviews, articles and commentary from gaming enthusiasts from around the world.
Since its first issue in 1998, Counter has grown to be one of the most respected journals in the gaming industry. Contributors to the magazine read like a "Who's Who" in the world of board gaming, and include knowledgeable and respected gamers from around the globe.
If you would like to keep abreast of all things "Counter" then please subscribe to this Guild.
Counter Magazines are available to download from the boardgamegeek store:
https://boardgamegeekstore.com/collections/counter-magazine
A Counter Subscriber microbadge is available for purchase at:
http://www.boardgamegeek.com/microbadge/13072
Follow this link to visit the Counter Magazine website:
http://countermagazineonline.wordpress.com/

This page does not exist. You can edit this page to create it.