Guild
Guild:
Category:
Website:
Created On:
2014-03-25 21:24:24
Members:
193
Manager:

Dice Hate Me

United States
Chapel Hill
North Carolina

The boardgame blog with worse luck than you! dicehateme.com

Collections:
Browse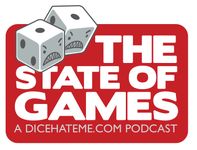 A board game podcast with a little something different. Sure, we talk about games we've played and games you should play, but we also chat about offbeat gaming topics like race, gender, violence and naked people. Presented by the website www.dicehateme.com - the board game blog with worse luck than you.
The State of Games is hosted by Chris Kirkman, the head of publishing house Dice Hate Me Games, and features regular co-hosts Darrell Louder, resident grump and designer of Compounded, Bottom of the 9th, and Fate of the Elder Gods, and TC Petty III, gaming hipster and designer of VivaJava and VivaJava Dice, Xenon Profiteer, and Spires.
This page does not exist. You can edit this page to create it.