Guild
Guild:
Category:
Created On:
2007-06-15 10:52:58
Members:
326
Location:

Addr1:
Addr2:
City:
State/Province:

Wisconsin

Country:

United States

Postal Code:

Manager:

Chad Rathsack

United States
Milwaukee
Wisconsin

Its a secret

Collections:
Browse

WELCOME to the Brewtown BoardGamers Guild: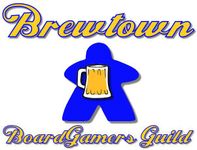 Welcome to our cozy, hobbit-hole section of the internet within the great realms of BGG! All are invited to join us whether you live in the Milwaukee area, live elsewhere in the outer reaches of Wisconsin or are Wisconsin-at-heart - an ex-patriot of The Good Land as the sage Alice Cooper once said. This space is for you and its content is by you. Please post introductions in the forums and help populate our forums and calendar with good conversation and helpful reminders of events!
For a Midwestern board game guild we have a wonderfully diverse population of members and I wholeheartedly encourage you to bring your own uniqueness to the membership and encourage you to tell others about us to grow membership and the local gaming scene. Once you've joined show your pride in one of the largest regional guilds on BGG with our microbadge!
You can buy it here http://www.boardgamegeek.com/microbadge/11331) and if you post in the forums to introduce yourself you'll likely see a geekgold donation to get out there and pick it up.
Together our guild has developed into thriving community that as accomplished some pretty cool things:
- The annual group "Auction That Ate Milwaukee..."
- Regular local no-shipping Math Trades, usually tied to gaming events and cons.
- Promotion and participation in local conventions like Midwinter Gaming Convention, Nexus Game Fair, Gaming Hooplas, and others...
- The Thrift Store Finds thread is a fun way to share treasures found, and let others know what is left behind for the gleaning.
- A plethora of small local gaming groups to join and visit. Feel free to post about your group events here.
- And much more!
And to finish off - a note from our illustrious founder and manager emeritus:
VETRHUS of Rogaland
United States
Milwaukee
Wisconsin

An ash I know, Yggdrasil its name. With water white is the great tree wet; thence come the dews that fall in the dales. Green by Urth's well does it ever grow.

"This guild has exceeded the expectations which I had when I created this it. Many thanks to the indefatigable Jack Kaye for his hard
work in building this guild into one of the largest regional guilds of BGG while managing the guild for several years when I
took a hiatus. Tusen Takk!"
NOW FOR SOME SPECIFIC GUILD POLICIES:
We don't have many rules here beyond the BGG site rules, and generally I prefer to think of them as policies, rather than rules. That said, here are some policies which we should try work to align with:
Please be civil and respectful in your dealings with other Guild members. If you feel a need to challenge or call out someone, please do so privately. BGG rules outline what sort of behavior of this sort can get a user banned.
We are blessed with several really good game stores in the area. Games Universe (multiple locations) and The Board Game Barrister are all worth checking out. Please give local vendors your business.

Game store owners or their staff are welcome to post about free gaming events. Please note that if I am informed by BGG site admins that this is frowned upon, we will have to change that policy.
Game store owners and their staff are prohibited from posting about sales, promotions, coupons, new releases, etc. as this is a direct violation of BGG rules about advertising. Users have been banned from BGG for this in the past.
Guild members who are not game store owners or paid staff are always welcome to post notices of local gaming events, free or not. That's not a problem.

Please post these as "News" in the forums. They can be added to the Guild calendar as long as it isn't more than a month in advance. Please do not SPAM the entire Guild with them by using the calendar as a messaging service.
Informal gaming events which are unrelated to game stores can be posted as either "News" or "General" at your discretion.
Do not post a duplicate thread about an event after one has been posted. Please use the original thread for updates and comments.
The Guild calendar messaging capability should remain reserved for notification for conventions, THE annual auction, and for math trades. You're limited to using this feature to once per event.
Regardless of game store affiliation, or the lack thereof, PLEASE DO NOT promote new releases, restocks or sales. These happen all the time and will just be noise in the forums. I'm happy to see these via social media, or in my personal email, but they cannot be permitted amidst guild communication.