Guild
Guild:
Category:
Website:
Created On:
2018-05-15 10:31:47
Members:
6
Manager:
Collections:
Browse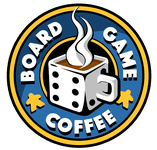 Board Game Coffee is a new weekly web series dedicated to board games with a focus on how to play, review and unboxing videos. We feature new kickstarter board games and board games.
Over the next year we will be featuring new kickstarter board games and we can't wait to share our experience with you.
Tune in on Thursday's for new videos! https://www.youtube.com/boardgamecoffee
Daily updates on Instagram https://www.instagram.com/boardgamecoffee/
Have fun, keep gaming and be social!