Guild
Guild:
Category:
Created On:
2010-10-26 04:52:44
Members:
161
Location:

Addr1:

The River Club

Addr2:

F36-40 High St

City:

Epsom

State/Province:

Surrey

Country:

United Kingdom

Postal Code:

KT19 8AH

Manager:

Adam Rees

United Kingdom
Rowlands Castle
Hampshire

Collections:
Browse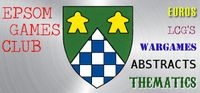 Founded on 4th Novemeber 2010.
Welcome to Epsom Games Club - EGC
We meet every Thursday (19:00 to 23:00) in Epsom at 'The River Club', which is on the High Street above McDonalds (36-40 High Street, KT19 8AH). All types of gamers welcome, from beginners to hardcore veterans. Bring along something you want to play or just turn up empty handed and play whatever is going on, it is up to you. For a more detailed idea of the games we play, and the gamers that play them, see this list (link) where we maintain games reports for all of our sessions – further details under 'More Information' below.
Attendance/entry on Thursdays is free, but 'The River Club' is a commercial operation so we will be regarded more favourably if we spend some money behind the bar - they do tea/coffee as well as normal bar fare. It is a great place to play games, well lit, fairly quiet (but not deathly) and we have the use of a number of poker-tables on which to play - very civilized.

'The River Club' is within easy walking distance of Epsom train station (outside Zone 6 but now on Oyster). If coming by car the two most convenient town centre car parks are 'Town Hall', just behind the other side of the High street, and 'Depot Road' which is close to the cinema. Again both are within easy walking distance and they each charge £2.50 for the entire evening if arriving after 18:30.
Disabled access: 'The River Club' is on the 2nd floor up several flights of stairs and there is no lift so I'm afraid it is not suitable for those with mobility issues.
Monthly Games Day
We also hold a once a month Saturday games day (09:00 to 17:00), typically on the 3rd Saturday of each month, but it can very occasionally 'udge' around slightly - you will find details in the Guild calendar. The venue is usually Ashtead Peace Memorial Hall (KT21 2BE). Due to having to hire the hall, there is a charge of £6.00 for attending[**], however, free parking and being able to bring your own food and drink, should make the overall experience actually cheaper than meeting in a central Epsom pub venue. Tea/coffee is available for a small charge. There is usually free street parking.
[**] If you have never attended one of our evening sessions or Saturday sessions before, then your first Saturday visit is free. If you can only attend for part of the day (up to 3 hours or so) then the charge will only be £3.00. There is no charge for those still in full-time education, and anyone else who finds themselves in an 'unwaged' position can feel free to contribute what they are comfortable with (a £1 contribution would be fine).
Disabled access: The hall has full disabled access and toilets.
Club microbadge:

- if you want to buy one click on the badge and it will take you to a screen which will allow you to do just that (cost 8gg).
Schedule
UPDATE - We have started up our weekly Thursday 'meets' again although not without some changes and with Covid precautions - please see the weekly threads for our new arrangements and MO - please do not just turn up on the evening.
We meet every Thursday evening with the only exceptions being around Christmas and New Year if Thursday fall awkwardly. An invite/attendance thread is posted to the Guild forums for each weekly session so we know who we are waiting for on the evening - if you scroll down a bit you will see several examples under the Forums sections.
In addition to our Thursday evening sessions we also hold Saturday games days at Ashtead Peace Memorial Hall in Ashtead, and for those too lazy to scroll down to the guild diary, the pending dates of these are:-
2022 - 15 Jan -*- 19 Feb -*- 19 Mar -*- 16 Apr -*- 28 May -*- 18 Jun -*- 9 Jul -*- 17 Sept -*- 15 Oct -*- 12 Nov -*- 3 Dec
It has been a long standing tradition, from the first meeting of the club in fact, that a geeklist is created detailing the games played at that week's meeting. It should be noted that the prime purpose of these reports is not to record who won, although we do include the scores if we can remember them, but to provide a forum for people to give their impressions and opinions of the games played. We hope they foster a sense of community and they are great for those who can't make it along for a few weeks to keep up with what is going on and, given that we tend to get to know the tastes of those we game with fairly well, so their opinions of a game are more meaningful and informative than the anonymous rantings of the internet.
There is a 'Meta-list' (LINK), which is a master list to which gets added all of the individual game night geeklists – so if you 'subscribe' to the meta-list you will get a notification each week when the weekly list gets created. Don't worry about how to create the weekly list, someone else will do that but do feel free to be the one to enter games that you have played when attending or add your comments to the entry if it's already there – usually the person who brought the game being played or the person who won ;-) tends to enter the game, but not always.
This is a (LINK) to a typical weekly report list.
There are no hard and fast rules as to what should be included in a games report, although including who played would seem a useful minimum. But feel free to leave it at that or indulge your creative writing skills to record what you want - a description of the game, a story that the game told, your opinions on it or perhaps even a haiku if that best captures your thoughts on the whole experience.
Other stuff
If there is anything you are not sure about or want more info then contact the following -
Weekly games session admin -
Gordon Watson
United Kingdom
Banstead
Surrey - United Kingdom
ASL - other tactical wargames call it Sir.

Beneath this mask there is an idea.....and ideas are bulletproof.

Nick Brooks
United Kingdom


Monthly gamesday admin -
Steve Jones
United Kingdom
Surbiton
Surrey

The EGC Meta-Geeklist
A list of lists - a collection of lists created/maintained by EGC members - feel free to add your own.
(LINK)