Guild
Guild:
Category:
Website:
Created On:
2010-12-21 13:02:52
Members:
102
Location:

Addr1:
Addr2:
City:

Los Angeles

State/Province:

California

Country:

United States

Postal Code:

Manager:
Collections:
Browse

The goal
The Wargame Bootcamp was formed in 2006 at the Strategicon game convention in Los Angeles by a group of wargamers.
We looked around the gaming convention and saw hundreds of Eurogames being played. Yet only a small handful of wargames were present. When we started asking people why they would not play wargames, we found out that most people thought the wargames were a) too hard and b) took too long to play. So we decided to change that.
So we started the Wargame Bootcamp in order to teach people how to play wargames and to show other gamers that there are easy, quick wargames out there. We invite all beginners and experienced players to learn new and classic war games. The average player will learn in approximately an hour and a half. The range of titles is wide and covers from the newest to the most classic of war games.
Since we started the "wargame scene" has changed and we are happy to say doing well. Stategicon has changed their format and have a war game room at each of their three conventions. While this is great, it didn't leave a lot of room for the Wargame Bootcamp so we have moved to Pacificon Game Expo and are working there to promote wargames for that convention.
Due to Covid-19 we expanded into teaching using online tools such as Vassal, Tabletop Simulator, and Discord. In addition to teaching how to play specific games we host sessions where folks can learn how to use these tool to play games online. we focus on hands-on teaching and practical skills. This can greatly aid folks in starting to play board games online in a non-competitive environment,
The organizers
Karl Kreder

Karl Kreder

United States
Nuevo
California

Founder of the The Wargame Bootcamp (https://www.boardgamegeek.com/guild/962)

My hero Grumpy Bonaparte



Tim Porter

Tim P.

United States
Thousand Oaks
California

Visit the Wargame Bootcamp guild

Muppet !



Volunteers
The organizers are also assisted by other gamers who volunteer to teach and run games at conventions. Many thanks to all those who have helped in the past.
If you know a wargame that you can teach to others then contact the Wargame Bootcamp organizers in order to volunteer.
Participation Games
One of the goals of the Wargame Bootcamp is to introduce gamers to games that they have not played before or would not have normally been able to play; this is achieved by hosting and teaching games on-demand. We provide the game, our knowledge of the game and it's rules and then teach the game to anyone who wants to play it, when they want to play it. If required, we even provide the opponent who can both teach the game and play the game in a friendly and informative manner.
Games that we have ran as Participation Games include:
Commands & Colors: Ancients
The Halls of Montezuma
Labyrinth: The War on Terror, 2001 – ?
Manoeuvre
Unhappy King Charles!
Wings of War: Miniatures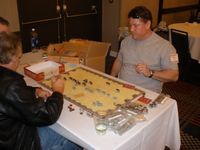 Tournaments
The States of Siege tournament at Gamex 2010 (Strategicon) was a great success with over 40 games played. These quick playing games by Victory Point Games attracted all types of new and old wargamers in a tense leader board tournament to see who could score the most points across a variety of games.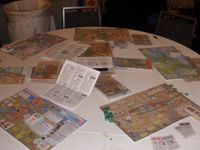 Featured Games at conventions
Recently we have chosen one game to be the Featured Game as each convention. This game is one that we believe would be a popular choice and recently published. If the game is a competitive game, as opposed to a co-operative game, that we have held a tournament based around the Featured Game.
Featured Games have included:
A Few Acres of Snow at Orccon 2012 in Feb 2012.
1989: Dawn of Freedom at Gamex 2012 in May 2012.
D-Day Dice at Gateway 2012 in Sept 2012
Fading Glory at Orccon 2013 in Feb 2013.
Raffle Prizes
Participants in games are awarded tickets that can win Raffle Prizes; the number of tickets is awarded based on the amount of time and how many games the participant takes part in the bootcamp.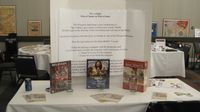 inline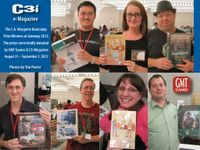 Sponsors
We are lucky enough to be provide raffle prizes by the generosity of game companies, such as GMT Games, DVG, VPG and C3i magazine.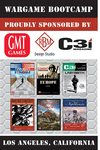 Demonstration Games
Games with great gameplay and strong visual appeal are used to draw the attention of non-wargamers to the bootcamp; they create discussion and generate interest amongst non-wargamers. The demonstration games are longer duration games that are well suited to be played over the duration of a convention. This demonstration game have also been ran as audience participation games where people can play for as long or as short a time as they have available. Bootcamp volunteers staff and run the game to provide a continuous game flow.
Wargame Bootcamp
Putting the fun back into history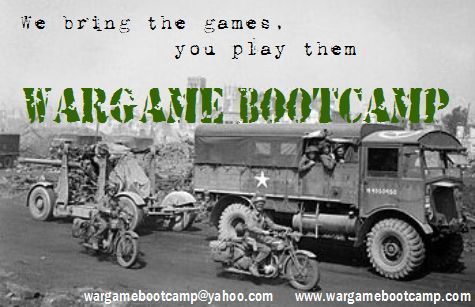 Many thanks to Bobby Doran for some of the logos.
This page does not exist. You can edit this page to create it.