Guild
Guild:
Category:
Created On:
2011-01-22 11:18:59
Members:
294
Location:

Addr1:
Addr2:
City:

Edinburgh

State/Province:
Country:

Scotland

Postal Code:

Manager:

Ian B

United Kingdom
Edinburgh
Scotland

The truth is a lemon meringue!

Collections:
Browse
An informal group intended for BGG members that play Board Games within the Edinburgh area.
Edinburgh Gamers Guild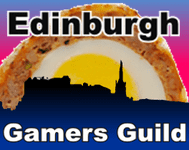 The Edinburgh Gamers Guild (EGG) is a place on Board Game Geek (BGG) which Edinburgh based board games players can use to arrange games, discuss games and generally interact with like minded gamers.
The EGG does not have a 'management team' as such so it thrives on individuals making contributions and taking an active role. Members are encouraged to use the forums for arranging games, making suggestions, passing on news (relevant to Edinburgh gaming) and general chat of interest to fellow members.
Please use common courtesy and common sense when participating in the guild. Remember this is an open forum viewable by anyone and so only post personal details after consideration of this!
We now have a Microbadge (thanks Goose!)

Get it here: http://www.boardgamegeek.com/microbadge/27429
How do I get involved ?
If you are someone who is looking to meet up to play board games in Edinburgh then please sign up to Board Game Geek (BGG) and then join this guild by clicking the link at the top right of this page. Also sign up to Meetup (see below) which is where a lot of the events are now being organised.
Subscribe to the Guild Forums
Once you have joined please 'subscribe' to this home page using the link also at the top right of the page. This will send you an email when new forum threads are started - note that you won't be notified of any replies unless you subscribe to the thread itself. If you want to easily be notified of every post and reply without needing to subscribe to individual threads then click 'Browse' in the forums header bar. On the next page 'subscribe' to each of the three types of post: General, News and Off Topic.
Also see this post for more detail and other BGG tips: How to use Board Game Geek efficiently - top tips
Introduce Yourself
Once you have joined please introduce yourself in this thread: Introductions or just post a new thread in the forums.
Regular Gaming Opportunities
For more details see the section indicated next to the day.
Monday - Meetup
Tuesday - FAQ
Wednesday - ad hoc
Thursday - Meetup
Friday - Meetup
Saturday - Meetup (occasionally)
Sunday - Meetup
Lastly ...
If anyone has any questions or suggestions that cannot be put into the forums then please send me a GeekMail.
Ian B
United Kingdom
Edinburgh
Scotland

The truth is a lemon meringue!

Latest update March 2020