Guild
Guild:
Category:
Website:
Created On:
2012-06-19 10:21:11
Members:
112
Manager:

Giles Pritchard

Australia
Shepparton
Victoria

Collections:
Browse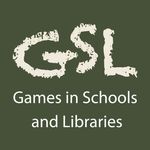 Games in Schools and Libraries (GSL) is a podcast and blog dedicated to exploring how games are used in a wide variety of school and library related activities. The podcast is produced and the library side is hosted by Donald Dennis; Stephanie Frey joins him to share their achievements and misadventures bringing games into the library. Kathleen Mercury is our amazing host for the schools half of the podcast, sharing her incredible experiences and talking with educators.
Stephanie is also the editor-in-chief for the GSL Blog where we all share our thoughts and resources for using games of all types whether on a tabletop or on a screen. The Games in Schools and Libraries podcast is produced by Inverse Genius in association with the Georgetown County Library System.

Find us on our website: http://www.gamesschoolslibraries.com
or contact us by emailing: schoolsandlibraries@gmail.com / gsl@gamesschoolslibraries.com
Our RSS, if you want to subscribe via your favourite podcatcher: http://feeds.feedburner.com/GamesInSchoolsAndLibrariesPodcastByGilesAndDon
On Facebook: http://www.facebook.com/gamesschoolslibraries
This page does not exist. You can edit this page to create it.