Guild
Guild:
Category:
Created On:
2013-03-25 08:31:12
Members:
231
Location:

Addr1:
Addr2:
City:

Raleigh

State/Province:

North Carolina

Country:

United States

Postal Code:

Manager:
Collections:
Browse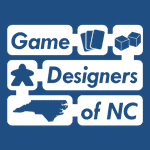 Follow us on Twitter @GDofNC or on Facebook. You can find more information about us on our website at gdofnc.com.
We are an inclusive group of game designers in North Carolina co-operating to improve our work, promote our products, and welcome new game designers to the industry. We collaborate to playtest and critique game designs, offer advice to game designers, and render assistance to members in finding publishers for their designs.
We currently have chapters meeting in Asheville, Charlotte, Triangle, and Wilmington
Current schedule of meetings
See https://gdofnc.herokuapp.com/events.html for our current meeting schedule.
Published designs
All designs published by members are found in the Organizations: Game Designers of North Carolina family.
Podcast
We also have a podcast! You can find discussion for the podcast in our podcast guild.
This page does not exist. You can edit this page to create it.