Article
Edit
|
History
|
Editors
Alea big box series
alea was started as a new label within Ravensburger in 1999. Each of their games in a particular sized box is numbered in order of publication, yielding their Big Box Series, the Alea Revised Big Box Series, the Alea Medium Box Series, the Alea Small Box Series, and the Alea Very Small Box Series.
Through the publication of Macao, alea versions of the games were German language only. Rio Grande Games published many English language versions of these games, however both Chinatown and Adel Verpflichtet were not published by Rio Grande Games in this manner.
Since Macao, both Die Burgen von Burgund and Bora Bora were published with multilingual rules in the box, as it was the expressed direction of Alea to take over English publication of their own titles.
However the 2014 Puerto Rico edition was again published only in German, widely regarded as the "Second Edition" as it featured all the expansions and the updated art used in the Anniversary Edition, but not the component quality or metal coins. Versions of this game in other non-English languages soon followed. A future english edition of this version has not been confirmed or ruled out by Ravensburger, but Rio Grande Games appears to still publish the first edition in English. This fuelled internet speculation that some licensing conflict between RGG and Ravensburger is preventing the second edition in English. In early 2018 a Chinese/English multilingual version became available in Hong Kong, further complicating the situation.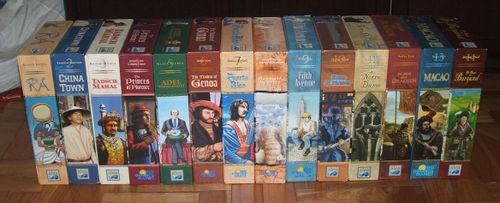 The "big box" games and their respective year of initial publication:
The cover art for games in this series share a common layout and design:


The first 7 games in the Alea big box series were highly praised on BGG, and are often given as examples of gamers games. All but one, Adel Verpflichtet, rank in the top 250 games on BGG as of May 13, 2011. The following three games–Eiszeit, Fifth Avenue, Um Ru(h)m und Ehre–have remained substantially lower ranked. The more recent games, Notre Dame, Im Jahr des Drachen, Macao and Die Burgen von Burgund could be considered a return to form, as all are rated in the top 150 as of November 14, 2012 with Die Burgen von Burgund even cracking the top 25. The latest release Bora Bora continued this trend and cracked the top 100.

Other series by alea include the Alea medium box series, Alea small box series and Alea very small box series.

Games in this series, in all languages, share many unifying visual design similarities in the box art and layout. However there are a few noteworthy exceptions to the common box design features in the non-German editions worth mentioning:

The English version of Mammoth Hunters, while having a similar box art style as the others in the series, does not actually have a number 8 printed on the box.
The Swedish/Finnish edition of Puerto Rico was renumbered #1 by the publisher, and the separator between the author and game name was dropped.
Different games of the series are published in Dutch:
[What Links Here]