Article
Edit
|
History
|
Editors
Games Magazine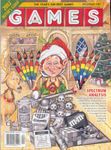 "Games" magazine was a US-based magazine with articles on games (including electronic and video games) and also a large number of puzzles and contests. http://www.gamesmagazine-online.com/
The annual "GAMES 100" first appeared in the Nov/Dec 1980 issue.
In 1982, video games were given their own list.
In November, 1984, they introduced their Games Magazine Hall of Fame.
In 1987, they restricted to new games (and the list was significantly shorter).
In 1991, they started naming a Games Magazine Game of the Year.
Publication History
September, 1977. First issue published. Bi-monthly by Games Publications, Inc
March/April 1979 - The publisher started being listed as Playboy Enterprises, Inc.
September, 1982 - The magazine switched to monthly publication.
Feb/March 1987 - The magazine reverts to bi-monthly publication and announces ownership change
Apr/May 1987 - Publisher listed as PSC Games Limited Partnership
Mar 1990 - Double month indication removed. This was the last issue under PSC Games Limited, which declared bankruptcy
July 1991 - After over a year out of print, GAMES reappeared, still bi-monthly, published by B.&P.Publishing Co., Inc (Bits and Pieces), with the same editor as before
October 1996 - Purchased by GAMES publication, Inc (represented by Kappa Publishing Group, Inc)
February 1999 - Announced a change to nine issues a year, replacing bi-monthly
2002 - Went to ten issues a year
October 2014 - Merged with World of Puzzles to form GAMES World of Puzzles, which focuses mostly on the "puzzles" side of things, with a couple pages dedicated to games news.
---
Main Content Index | Game Series Index | Game Magazines Index
[What Links Here]