Article
Edit
|
History
|
Editors
GeekBuddy
A GeekBuddy is a user who you want to keep track of on BGG.
To add someone to your GeekBuddies list, go to the Community tab, and select there Find Users. Then click the small down arrow just below a user's name that you found, then from the dialog box which opens select "Add GeekBuddy").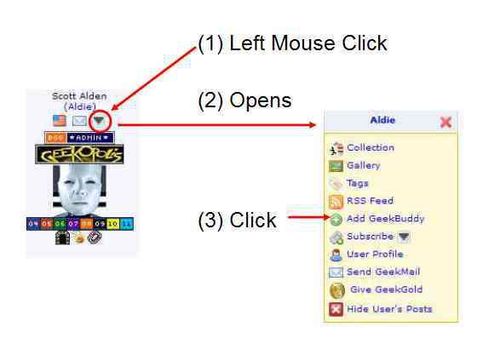 You can see if anyone else has added you as a GeekBuddy by going to "My Geek" then clicking the "Geek Stuff" tab. To see who exactly has added you click on the number.
GeekBuddy Manager
In most cases, everything you'll ever need to do with your GeekBuddies can be done via the GeekBuddy Manager. The GeekBuddy Manager is found in the drop down menu below "My Geek" at the top of the screen. It is not one of the clickable tabs that appear when you actually go to your "My Geek' profile.
The GeekBuddy Manager includes the following options:
| Option | Purpose |
| --- | --- |
| View | Allows you to see the most recent posts and geeklists from each of your GeekBuddies. |
| Manage Groups | Allows you to put your GeekBuddies into different groups that you make up yourself. You might choose to set up separate categories for "game designers", "trustworthy reviewers" and "friends", for example. These categories can then help to narrow down your results under Geekbuddy analysis (see below). |
| Edit GeekBuddies | Allows you to remove GeekBuddies. |
| Recent Posts | Lists the most recent contributions from your GeekBuddies in a single list, with the most recent contribution first. |
| Analyze | Allows you to see what your GeekBuddies think about a particular game you're investigating. |
| Ratings | Allows you to see the average score given to games by all of your GeekBuddies combined. |
Why Bother?
There are a variety of reasons you might want to add someone as a GeekBuddy. These might include:
1) You may happen to be friends with them, come from the same city or country, or simply enjoy their contributions.
2) You might want to add someone as a GeekBuddy to make it easier to track down opinions about games from people who have similar tastes. After a while on BGG, you might notice that certain people like the same kind of games that you do, or whose opinions you trust. Adding these people as Geekbuddies allows you to get their opinions and ratings quickly and easily***. (There are tools like http://www.korttipeliopas.fi/bgg/correlation.php for finding users with similar taste.)
3) You might want to easily find out whenever contributors you like, such as your regular reviewers, game designers, or BGG admins, make a new post.
4) You might also want to make someone your geekbuddy whom you wish to give the ultimate thumbs up to out of respect for their overall contribution to the website or gaming community.
5) You might want to keep track of people make (semi-)regular transactions of a certain kind with, such acting the middle man for transporting games.
6) You might want to establish a contact to the nearest board game enthusiasts in your area.
7) If you can think of other worthwhile uses, consider adding them here!
easy way to see what your geek buds have rated and/or commented on a game is to click on the 'GeekBuddy Analysis' link on the game's page under the game name/year and to the right where it tells you how many ratings and comments there are.
[What Links Here]