Article
Edit
|
History
|
Editors
How To Use The Attribution Formatting Tool
Formatting
To ensure that links show up correctly and text configuration on the site is uniform the source reference for a game description must be formatted properly. Links, especially many Wikipedia links, may contain some "unsafe characters" which do not translate properly by the wiki markup. See the %xx escape sequences below for the given character:
%21 ! (exclamation mark)
%23 # (number sign)
%24 $ (dollar sign)
%27 ' (apostrophe)
%28 ( (left/open parenthesis)
%29 ) (right/closing parenth.)
%2A * (asterisk)
%2B + (plus)
%2E . (period)
The "Attribution Formatting Tool" will handle all of the formatting for you.
Where to find the formatting tool
There is a link on top of the description box labeled "Click Here For Attribution formatting". Click this link and a box will drop down.
Example Image:


The Attribution Formatting Box Expanded
How to use
Step 1
First Select the "Type" of source credit you are using from the drop down menu labeled "Type". Your options are User Summary, Wikipedia (also wikia), Publisher Website, Game Website, Developer Website & Other. We do not have an option for "box Cover" yet even though it is a valid source.
Example Image:


Select The Source Type From The Drop Down Box
Step 2
If your source comes from a website enter the URl into the box labeled "Value". For user summaries leave the "Value" box blank.
Example Image:


Paste The Website URL Into The Value Box
Step 3
Make sure you click in the description box like you would to type something so that the text cursor appears (that blinking line).
Step 4
Then click the "Format" button. If done correctly you should see a formatted link/text appear in the description box.
Example Image: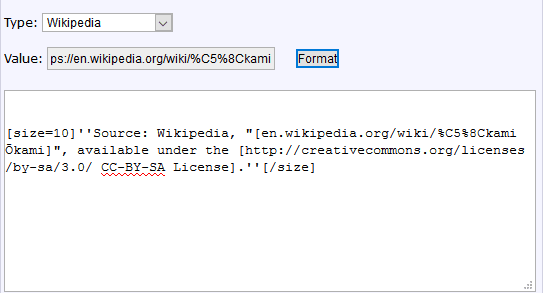 A Link Formatted Correctly
[What Links Here]