Article
Edit
|
History
|
Editors
International Games Series
1. What is IGS?
International Games Series (IGS) is a series of international wargames, mainly by Japanese game designers, that are being developed and published by Multi-Man Publishing, and was first coordinated by Adam Starkweather. Artists for the series include Nicolás Eskubi, Mark Mahaffey, and Knut Grünitz.
This wiki entry describes games published under the
IGS
label.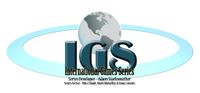 Official IGS Logo
Geeklist:
---
2. Overview of Existing IGS Games
The following titles have been published as stand-alone games in the IGS product line:
MMP's in-house magazines, Operations (Special Issue) then Special Ops, has also published the following complete IGS games:
---
3. Released Games
The following games have been released as part of the IGS product line, and are listed according to the order of release.
3. IGS Games Available For Preorder
The following games are now available for preorder. Publication dates for each game will depend on the interest indicated by customer orders. Direct links are provided to the preorder webpage for each game.
---
4. Awards and Recognition
Games from Multiman Publishing's IGS series have received the following awards:
---
5. Cancelled Games
The following games were available for preorder as IGS titles at one point on
Multi-Man Publishing
's website, but were later removed. Reasons for not publishing the games vary.
---
[What Links Here]