Article
Edit
|
History
|
Editors
More About Tavern
The forums at RPG Geek are for the discussion of gaming, but we are also creating a strong community. Sometimes that community wants to talk about other things too. For this, there are several subforums under Everything Else, the main one of which is the Tavern.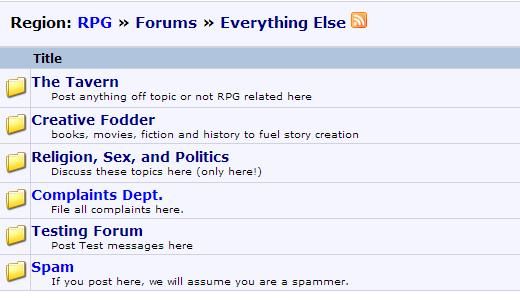 You can see from the image that topics related to Religion, Sex and Politics have their own area.
Users can post about anything in the Tavern. People post about gaining new Poster Level Badges, about their vacations and about what movies they want to see. The Tavern also has several long-running threads on books, food, our Rolling RPG Quiz and several games. The Tavern is under the influence of Olive the Owlbear, the Tavern Mascot.
The Tavern is a sort of sub-culture of RPG Geek. Some people spend more time fraternizing about all sorts of fringe geeky topics than they do out on the main forums! It's so popular that it has a Front Page module which you can enable by customizing your front page experience. A snapshot of that frontpage module looks like: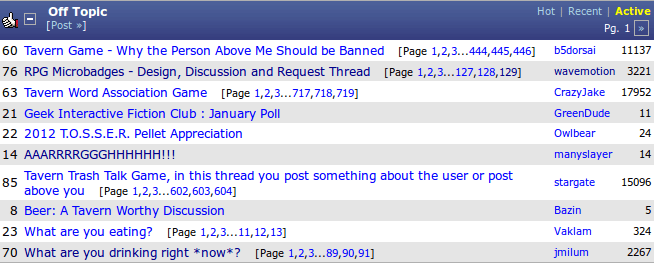 Return to the User Guide
[What Links Here]