Article
Edit
|
History
|
Editors
More About Uber Badges
Geekbadges, uber(geek)badges and overtext are yet another way to customise your Graphical User Representation on the Geek.
Geek badges and uber badges can be purchased for 50 Geekgold, and overtext for 100 Geekgold, through your profile page. Geek badges sit abover your avatar, and Uber badges sit above that. Overtext is mouse-over text for your avatar and your geekbadge, to add further personality. There are special uber badges for Geek of the Week, game designers and site events such as the Newbie PbF initiative. Users can also upload images to use as Uber Badges.
In the following userblock, the Sword which says RPG Geek is the Uber Badge.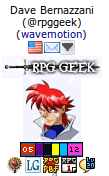 Also see ubergeekbadge
Return to the User Guide
[What Links Here]