Article
Edit
|
History
|
Editors
Standard Deck Playing Card Games
A "standard" deck of playing cards consists of 52 Cards in each of the 4 suits of Spades, Hearts, Diamonds, and Clubs. Each suit contains 13 cards: Ace, 2, 3, 4, 5, 6, 7, 8, 9, 10, Jack, Queen, King.
Historically, this is the French or Anglo-American deck. Other nations (e.g. Germany, Italy, Spain) have their own traditional decks which vary in suit and face values.


| | | | |
| --- | --- | --- | --- |
| The suit of Spades: | The suit of Hearts: | The suit of Diamonds: | The suit of Clubs: |
A traditional deck of cards usually also includes two Jokers: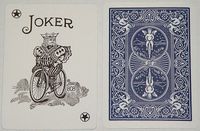 There are a multitude of games that can be played with a standard deck of playing cards or a modified deck of playing cards. The games that have an entry on BGG are listed below. For other games an excellent website is Pagat. Traditional Card Games is a placeholder for all games not in the BGG database.
Many of the games on BGG are part of the Components: Traditional Playing Cards family of games.
For an overview of the more popular and common ones, see this article: 40+ Great Card Games For All Occasions
[What Links Here]