Article
Edit
|
History
|
Editors
VGG User Guide: Contributing to VGG
Welcome
The content on VGG is created by users, and without it, the site would be pretty empty. This guide is intended to help those who want to contribute, to do so. Adding content will also reward the submitter with GeekGold and make you eligible for certain Microbadges.
Cloning
Existing pages can be "cloned"; this will create a new item record with all the existing item's data, saving you time. You can then change the fields which are different, and submit the new item. The "Clone" function is found in any item's Information Module.
Release Versions
Video Game release versions are explained in-depth in the Game Page guide. To add a new release version you first need to go to the game's page. Then go down to where the "Release Versions" module is located and click the "Add Version" link in the module header.

The 'Add Version' Link is On The Top Left
Corrections
Some of the information on the website may fall out of date, other times the person who entered it may have been misinformed and we all make mistakes. Whether you come across an item in need of an update, incomplete data, or an accidental duplicate - mistakes can be fixed. Every item page has a 'Correction' link to the right of the Information Module. Selecting this will take you to a page that will allow you to make changes to selected fields and supply any addition information or notes in the 'Note to Admins' Box.
Once submitted it will be checked by the Admins and then either approved, declined, sent back for revision, or you may be asked for addition information or clarification on the changes. You can help the process along by making a note in the 'Notes to Admin' field describing why you are making the change, and providing any sources you can to verify the correction. Approved corrections are awarded GeekGold, and the amount will vary by the number of fields corrected.
NOTE: Hundreds of corrections cycle through the correction queue weekly. The correction queue is the Geek version of the Hydra... kill one and two will take it's place.
Many corrections are wrong.
Many corrections provide no support for the correction/change.
Many corrections are user opinion, not fact.
Many users do not read or follow the various guideline Wiki's.
Some corrections destroy good data.
At times we see multiple corrections for the same game, all with conflicting data.
Users are asked questions about their corrections and they do not reply.

A sure way to get a reply from a user is to decline the correction.
(*) By leaving detailed notes in the "Note to Admin" box and providing links to sources that back your correction you help to make the admins workload that much lighter.
Adding Content to Game Pages
Uploading Images

A Game's Image Gallery
An image can be uploaded to any item with an Image Gallery. By selecting the 'Upload' link from either the gallery or the Image Module, you will be taken to the image upload page. Before submitting an image, you should read the Image Policy. Otherwise your screenshot may get declined. From the upload screen, use the Select File button to browse your local system (computer files) and choose the image(s) to be uploaded. You can upload more than one image at a time to the same gallery. Due to the ease with which users can take screenshots, VGG receives far more images than BGG or RPGG. Therefore VGG has adapted a strict image policy for uploading images.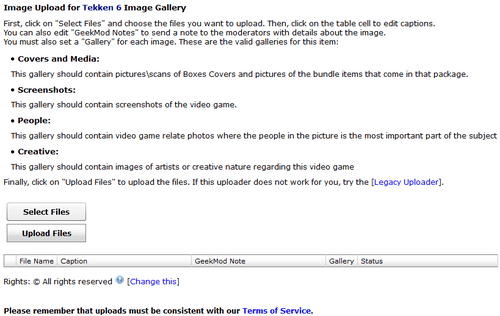 The Upload Page
After selecting your images, you need to select the image category for each image. The categories available will vary with the item type.
Video Game Screenshot Categories:
Covers and Media: Game box art, manual, and media (disc, cartridge, etc.).
Screenshots: Any images captured of the game and game-play.
People: Cos-play or photographs of people featuring the associated item.
Creative: User created images, official advertisements or articles, and merchandise associated with the item.
Character Screenshot Categories:
Screenshots: Any images captured of the game and game-play.
Official Artwork: Official images created by the publisher or developer.
People: Cos-play or photographs of people featuring the associated item.
Creative: User created images, official advertisements or articles, and merchandise associated with the item.
Series, Franchise, and Company Screenshot Categories:
Logos: The title text or image associated with the item.
People: People associated with the item.
Creative: User created images, official advertisements or articles, and merchandise associated with the item.
You should also provide a brief caption for the image. Any notes that you feel the moderators should know about the image should go in the 'GeekMod Note' section. Lastly, you should select the appropriate license you wish to attribute to your image. The upload progress bar on each image will show the upload's progression, and when complete, the image status will show the image as Uploaded. You can use the View link to preview your image. Your screenshots will then pass through GeekMod and be evaluated by your fellow VGGers. Images that have been approved are awarded 1 GeekGold. Any images that have been approved by GeekMod can be made a 'Representative Image'.
Uploading Files

A Game's Files Module
Files vary in content and may range from FAQs, to maps, and other such things. A file can be uploaded to any game by first going to its page and then going down to where the File Module is. Selecting the 'Upload File' link will take you to the Upload a File page.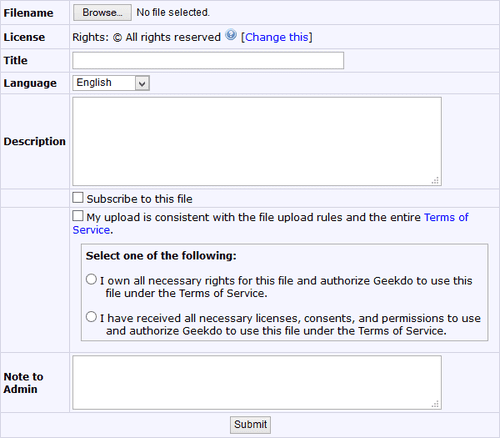 The File Upload Page
From this page, you will be asked to submit a title for the file, and choose the language and license for the file. You can use the Browse button to locate the file on your local system (computer). Provide a description of your file, and read and agree to the Terms of Service. Make sure to read the File Upload rules before submitting a file.
Submitted files are added to a queue for Admin approval. File approval occurs at a much slower rate than other items, and it may take a VERY long time (currently files are on a off/on hiatus).
DISCLAIMER: The general idea of VGG is as a database for videogames. It is not meant to catalog and host all sorts of mods. Mods often take up lots of space and space is expensive. Besides the size of these files what if one breaks your game or worse, PC? Whose going to be responsible?
We should (and do) review all uploaded files. But for mods you would need the game to check it. So we don't. There are other sites which provide free hosting space and links to them can be submitted to VGG via weblinks.
Adding Web Links

The Web Links Module
Web Links can be added by first going to a game page and then going down to where the 'Web Links Module' is located. Click the 'Add Link' option and you will be taken to the add link page.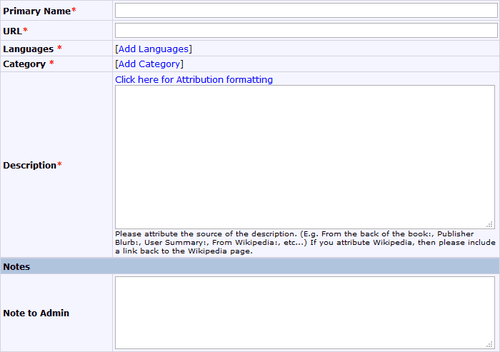 The Add Web Link Page
On the Create Web Link page provide a title, the URL to be linked, the language, a description, and a catagory - review, fan site, etc. The description should be a brief summary of describing where the link will take the user. Pending Web Links are approved by VGG Admins.
Adding Videos
See the VGG Video Guide page.
Creating Walkthroughs
A walkthrough for a game can be created from the Walkthroughs Module, via the Add Walkthrough link. On the Create Video Game Walkthrough page, create a title for your walkthrough, and select the versions which your walkthrough will be applicable for. Add the languages the walkthrough is intended for.
The Publish option displays your walkthrough to the public. You can choose not to publish the walkthrough, so that you can develop it, and then publish it at a later time. Once a walkthrough is published, you can not delete it. The Open Editable option allows for other users to be able to edit your walkthrough once it is published. This feature is good for creating community-built walkthroughs. The Description should be a description of the walkthrough - what it is, who it is for, any special notes or comments you want to make, etc.
Currently VGG no longer supports walkthroughs.
Submitting Reviews
To submit a review you must first go to the game page you wish to add it too. Go to the Forums Module and click the 'Post' link. Select 'Reviews' from the drop-down menu labeled 'Select a Forum:' and then proceed as if you are submitting a forum post. When you are done hit 'Submit' and your review will go through GeekMod.
Other
Representative Images
All items can have a representative image. This is the image that will display prominently in the Information Module and on searches for that item. The image used is the one deemed to be of the best quality and to best represent the item.
There are a few guidelines as to what sort of image takes precedence over others. Listed in order of importance below:
Representative Image For Games:
1) The front game box.
2) The game cartridge, disc, or manual.
3) A screenshot of the title screen.
4) Whatever screenshot or image is available.
Representative Image For Download Only Games:
1) A screenshot of the title screen.
2) Whatever screenshot or image is available.
Representative Image For Series, Franchises, and Companies:
1) The series, franchise, or company logo only. These are also the only item in the database in which logos are allowed.
Representative Image For Characters:
1) A screenshot of the character.
2) Whatever screenshot or image is available.
Representative Image For Hardware:
1) The box or packaging that the console or accessory came in.
2) A clear image of the console or accessory.
You can propose an image to be the representative image from the game page, by clicking on the 'Browse' link in either the Information Module or Image Module.

Click the Browse Button to View A Games Images
Then click the 'More' link found under an image. It will then display the user name of the person who submitted it and the date it was submitted on, as well as the number of comments posted on it and a link labeled 'Propose Representative Image'. After clicking that link, a white box will appear. Click 'OK' and the image will enter the queue for approval via GeekMod.
| The 'More' Options | Propose Image Box |
| --- | --- |
| | |
Linking Images
Images that have been uploaded to a database entry's gallery can be added to other items in the database. The most common instance is adding an image on a game page to a release version on that same game page. That way the version will have an appropriate image instead of the place holder image.

Release Versions - One with a Linked Image (bottom) and One Without (...
There are two ways to link an image to another item:
1) Images uploaded to a game or character entry can be linked to a particular version by clicking the 'Link Image' link found in the 'Release Version Module'. A box will pop-up in which you can search for an item using the "Name" box and top drop-down menu. The image section allows you to enter the Image ID of the desired image, or you can use the magnifying glass icon that says "Lookup Image" when you hover your mouse over it to display a gallery to select the image from. Then hit submit.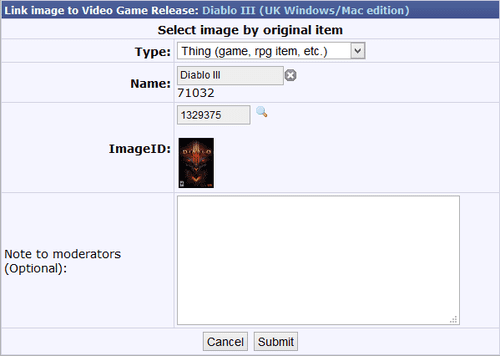 2) The second way is to go to the page of the image you want to add to an item. On the left you will see a section titled "Also linked to:" and then see two links on the bottom, one labled "Add Link»" and the other "Add Version Link»". After clicking on either link, a box will pop-up. Fill in the info of the game or character you want it added to and then hit submit.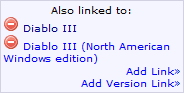 Submitted data links are approved via GeekMod.
Creating Tags
Tags are one-word descriptions which users can attack to items and threads on the site as a way to categorize content. Most things on the site have a section for tags and will contain two lines, one labeled "Your Tags: Add tags" which will allow you to start attacking tags you create to that item and then there is "Popular Tags: [View All]" which will allow you to see what tags others have created for that item.
Wiki Know-How
Many areas of the site contain sections of user editable text, such as game descriptions and the like, that will require the use of Wiki markup. Many users neglect to read up or attempt to format their text additions or edits correctly and it creates more work for the admins to clean-up as well as diminish any possible GeekGold rewards you could have possibly received. The knowledge required may seem intimidating, but it is actually not all that hard to learn and there are even a few tools that will do some of the work for you.
The following pages discuss use of wiki pages on VGG:
The Small Stuff
Here are pages that already cover these minor areas. Everything else will be listed below:
Thumbs

Thumbs are a method of recommending user contributions or showing you support it. Forum threads and posts, images, files, and reviews can all be thumbed by clicking on the green thumbs-up symbol next to it. You can remove your recommendation by clicking on the same icon, which will turn grey once you've recommended it. You may click on the number next to the thumb to see which users have given their recommendation.
GeekMod
Any user submissions that are not checked by the admins will go through GeekMod. GeekMod is a way for users to moderate content submitted by their fellow VGGers. Select content - Images, Videos, Image Links, Articles (reviews submitted for GeekGold, and Data (representative images) - is moderated from the GeekMod interface.
Submitted content is presented anonymously to the moderators, who view the content and any comments or notes made by the submitter. They can then choose whether to approve, skip, or decline the content. The "approve and recommend" option will also give a thumb to the content if it is approved. After enough votes have been collected, the system will approve or reject the submission.
Tips For GeekModding
You will get more GG for voting to decline an image than you will for approving. More often than not, content that shouldn't make it onto the site does. Here are some tips for you when checking images:
Always check the item on a Google search. Many images are lifted right from the first page of results.
If the images a user submits are all of varying sizes then that should trigger a red flag.
Always check the item to see if it has any watermarks on it.
If a box cover is submitted, but no back cover, then that should be viewed with suspicion.
If a box cover has RP (Rating Pending) as a rating on it then that should trigger a red flag. A game will never be released with such.
If a user submits several box covers for different platforms to the same item then that should trigger a red flag. A single person rarely owns multiple copies of the same game for each platform it was released on.
Why Is It Taking So Long
When few users take part in GeekMod, it takes longer for content to get through. Moderators receive .01 GeekGold for voting to approve and .05 GeekGold for voting to reject content.
GeekMod - Why not help out and cast your vote?
Why Did My Submission Get Declined
First off, if your image is declined, seek out the reason and correct the problem. Do not try to upload it again in the hopes that it will get through GeekMod.
Common Reasons for a Declined Submission:
It violates the VGG image or content policy.
The content was not yours (taken from another website).
It is a duplicate or too similar to content already in the database.
You added it to the wrong gallery or item (usually game gallery, should be on a character entry).
GeekMod is not a perfect system, and input on the system can be submitted via the VGG Suggestions Forum.
Social Networking
Video Game Geek supports several social networking sites.
Twitter

When recording a play, you can choose the "Post to Twitter" option, which will post a brief message to your twitter followers announcing you played the game, and provide a link to the game page. The first time you use this functionality, you will be directed to the twitter site to authorize tweets from your account. Most items on VGG also contain a share option found to the far right in the Information Module.
VideoGameGeek also has it's own account on Twitter! Be sure to give it a look and follow.
Facebook

You can link your VGG profile to your Facebook from the 'Profile' page under the 'My Geek' tab of the NavBar. There is also a Facebook app that will interact with items in your collection. Once your accounts are linked, you can choose to become a fan or "like" items in the database. This will display the item on your Facebook profile.
Most items on VGG also contain a share option found to the far right in the Information Module.
[What Links Here]