Article
Edit
|
History
|
Editors
VGG User Guide: Microbadges
What Are Microbadges?
Microbadges are little 16x16 images that are displayed under a user's avatar. You can have up to 5 displayed at a time. All others that you obtain can be seen in your profile. Hovering your mouse cursor over any microbadge will show some OverText associated with that badge. You can also click on any microbadge to be taken to its own page where you can see who else owns that particular microbadge, how many own it, and a description of what it is.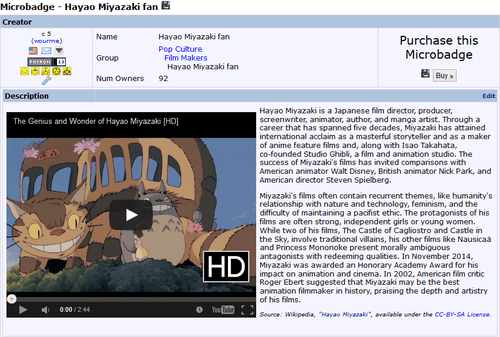 Click on Any Microbadge to Be Taken to its Own Page

A few special microbadges such as

or

allow you set a custom URL for those badges, meaning anyone that clicks on those microbadges can jump directly to your Blog entry or your Twitter page.

How Do I Get Microbadges?
A few microbadges are awarded by the system, mostly for contributions you make to the Geek. Others are promotional giveaways, awarded for contest participation or as prizes, but most can be purchased with GeekGold.
Occasionally, Microbadge Coupon Codes are distributed. A user who has been given a coupon code can redeem it for the microbadge of the user's choice, instead of paying GeekGold for it (a user may only redeem a coupon code for a microbadge which can be purchased).
VGG Only Microbadges
All microbadges you obtain can be seen across all Geekdō domains. Several however, are unique or are specially awarded for activities and contributions to a particular domain, often for a limited time. Here are the ones related to VideoGameGeek.

Contributions and Game Collection
Special VGG Event and Contest Participation
Popular GeekLists and Forum Threads
Admin Support

Creating Microbadges
Microbadges are created by users, who receive 0.25 GeekGold for each sale. There are also badges that are given to users who successfully submit several badges and a few that are given in recognition of exceptional work. The links provided below detail all you need to know about badge creation and submission. For those who are unable to create badges themselves, there is a request thread.

Important Links:

Awarded for Microbadge Creation
Awarded for Exceptional Work
Microbadge Purchaser Challenge
Microbadge Support

The 'Micro-Badger' is a joke among the micro-badging community.
[What Links Here]