Article
Edit
|
History
|
Editors
VGG User Guide: My VideoGameGeek
Welcome
Users are essential to the growth and success of VGG. You contribute the database items and the discussions. An anonymous user can always browse the site, but a registered user can truly participate and make the most of what VGG has to offer.
Account Creation and Registration
To create your own account, click on the Register link in the User Block of the NavBar. Like any other website your username and password is unique to you and will be what you use to login.
Follow good Internet behavior and choose a complex password utilizing different cases, numerals, and symbols. Your email address will be used to send your account verification, along with being used in case you forget your password. It won't be exposed to other users, and you won't receive unsolicited emails from VGG.
The information you provide under 'PUBLIC' Information is visible to all users. You must provide a name, but you may choose to use a pseudonym if you wish. State/province and Country are optional, but if you choose to fill it out please only use your real information as VGG users use these features to find gamers near them. Your Date of Birth is kept private, and used to confirm that you are at least 13 years of age.
Lastly, read and accept the Terms of Service, and fill in the reCAPTCHA field. You'll receive an email to your registered address providing a link to activate your account.
Understanding Your Profile
Your profile can be seen by other users and it is where you can provide public information about yourself, change your avatar or badges, and it will also contain your image gallery, collection, and contributions to the site. Filling out your profile is optional, and you can provide as much or as little information as you wish. Each section of your profile is editable using the pencil icons next to the section's header. Well look at each section of your profile, starting with the left column.
VideoGameGeek Preferences
Let's start with the first block you will see on your profile. It is found to the left and is called 'Preferences'.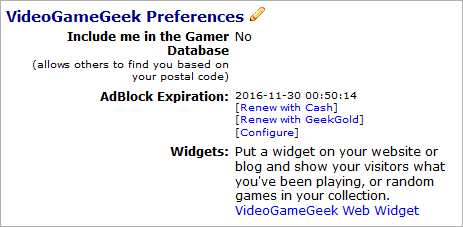 VideoGameGeek Preferences Block
It contains the options to:
Be Included in the Gamer Database - Allows others to find you based on your postal code.
AdBlock - Use real world cash or GeekGold to enable the blocking of ads on the site.
Widgets - This creates a banner with the games you have been playing.
User Profile
The second block down is labeled 'User Profile for (insert username here)' and this contains your 'User Block' and profile description. To change your profile description click the pencil icon next to the section's header.

A User Block? What is it? - Every user has a block of information that appears on their profile and in the forums. It consists mainly of your username, real name or pseudonym, a geekmail icon, a drop-down menu with links to that user's public profile pages, GeekBadge, avatar, and then finally Microbadges. As a new user, you'll also have a NewUser badge for a short period of time. Badges are used to provide certain information about users. Some of the more common ones you may see include Admin, Game Designer,. Additionally users may create their own custom GeekBadges. Below is a comparison between a new user's block (on left) and an old user's block (on right).
| New User Block | Old User Block |
| --- | --- |
| | |
Microbadges and Your Avatar
Your avatar and the various 'badges' are used to represent you and your interests. These small images will appear on your profile and in the forums. These images will appear on all three Geekdō domains.
| Item | Image | Description |
| --- | --- | --- |
| Avatar | | An avatar is a 64x64 jpg or gif image that appears when you post in the forums. It requires a one-time purchase of 30 GeekGold. Once purchased, you can edit and change your avatar at any time. Please use an avatar unique to you, and only use someone else's art with their permission. Animated avatars are allowed. |
| GeekBadge | | A GeekBadge is a text label consisting of two colored blocks that appears on your user profile. A normal geek badge is a one-time 50 GeekGold purchase. The image displayed is of an admin badge. |
| UberGeekBadge | | An UberGeekBadge is an additional GeekGold purchase and can be a second text label or a small image. |
| Microbadges | | These are small 16x16 images that represent your Geekdō participation and interests. They can be purchased with GeekGold, awarded for contributing to VGG, or won through contests. You may choose up to 5 MicroBadges to display in your user block. All of your MicroBadges will display on your profile page in the MicroBadges section. |
User Details
The User Details section is a dark blue bar that is found on the top of your profile (pictured below). This allows you to view additional information about yourself or other users.

User Details Bar
Well look at what each tab offers:
| Tab | Description |
| --- | --- |
| Game: | This is a summary, an overview of your collection and activity. This is the 'default' tab. You can also use this section to create and edit your own personal Top 10 and Hot 10 lists. |
| GeekStuff: | This shows your current GeekGold, what you've earned, what you've spent, and what you've tipped. This also has your GeekBuddies, a way of following your friends. You can add a user as a geekbuddy by clicking on the dropdown menu in their user block, and choosing "Add GeekBuddy". GeekQuestions are mostly non-serious questions asked by others. |
| Interests: | This is a small section that allows you to fill in additional information about your other hobbies and interests. |
| Contributions: | The contributions section allows you to see your or another user's contributions to the Geekdō domains (see the Data Entry Guide). Initially, this section will be pretty barren, but as you post and reply to threads on the forums, submit database items, and upload images and files, it will begin to fill out. Each contribution type will contain a numerical link that will show a user's relevant contributions. Items waiting for approval will show as (pending). |
| Stats: | This provides links to information calculated from your collection and ratings within the database. |
| Blogs: | This will take you to the most recent blog posts by the user. |
| Gallery: | This is a place for you to upload personal images of whatever you want. These images do not require mod approval, and are not associated with any particular item, so they can be used in creating your own reviews and walkthroughs. |
| Guilds: | This will lists a user's guild memberships. More on guilds can be found here. |
Managing Your Account
Under the 'My Geek' tab in the NavBar, is a link labeled 'Account'. This will take you to your account manager. From here you will have several sets of options. Here is what each one does
Security
Change Password: A way for you to change your password.

Forums
Threshold: Allows you to choose if you want to see flagged posts or not.

Hidden Users: lists users whose posts you have chosen to hide. A user can be hidden by selecting the appropriate option on their info block drop down menu.

Subscriptions: provides another link to your subscription page.

Bookmarks: This shows you all of your bookmarked pages.

Forum Settings: This allows you to specify your default timezone and choose to view emoticons.

Forum Filters: This allows you to specify what forums you do not want to display in your front page modules.

Layout
Edit Layout: Allows you to hide the Quickbar, subdomain icons (on BGG), camera details on images, geeklist comments, and microbadges. Lastly you can specify the default size images are displayed in.

Customize Front Page: Another way to get to the Front Page editor.

Customize QuickBar: Another way to get to the QuickBar editor.

Configure Ad Block: Allows you to choose which, if any, types of advertisements you wish to see on the site.

Collection
Edit GeekCurrent participation: Allows you to block your collection changes from GeekCurrent?

User Profile
Edit Profile Description: These options provide another way for you to edit various portions of your profile. (see above)

Edit Contact Details: These options provide another way for you to edit various portions of your profile. (see above)

Edit Avatar: These options provide another way for you to edit various portions of your profile. (see above)

Edit GeekBadge: These options provide another way for you to edit various portions of your profile. (see above)

Edit Microbadges: These options provide another way for you to edit various portions of your profile. (see above)

Edit Interests: These options provide another way for you to edit various portions of your profile. (see above)

Notifications
Edit Notification Preferences: This is another method of getting to the Preferences section of your profile. (see above)

Delete Account
Delete Your Account: If you should decide that you no longer wish to be a member of the community, you can choose to delete your account. Make sure this is really what you want to do (give yourself some time to think about it), as once deleted, your account is gone for good.

GeekMail
Geekmail is a private messaging system for Geekdō users. The system works similarly to most web-based email clients, but only is capable of messaging other Geekdō users. You may access your mailbox at any time by clicking on the Mail icon in the user block.
To send a message to a user, you can use the 'Compose Mail' link from your mailbox, or you may click on the envelope icon in any user's information block. Remember, when composing a message to address the message to a user's Geekdō username and not their real name. Messages may be deleted, marked read/unread, archived, or labeled through the buttons or 'More Actions' menu on the mailbox page.

Subscriptions

Subscriptions are a way to have the system notify you when a new post or thread is created in a chosen topic of interest. You can subscribe to virtually any item, forum, or thread using the "Subscribe" link at the top of the related page. This link changes to Unsubscribe when you are subscribed to the thread, and clicking on it is all you have to do to stop following a topic. The drop down arrow next to the Subscribe/Unsubscribe link allows you to customize the filters for that subscription, or to block it.
The Subscriptions link in the user block will update as items you are following receive new posts, indicated by a number in red text. Clicking on it will take you to your subscriptions page, which is broken down by item: Forums, Images, GeekLists, Videos, Files, and Marketplace and Auctions (pictured below). Subscriptions for each type can be sorted by most recent, first, or oldest, and you can choose to view only new updates, all updates, or no updates for each. Individual subscriptions will be removed as you view their associated pages or you can choose to mark individual or all subscriptions as read.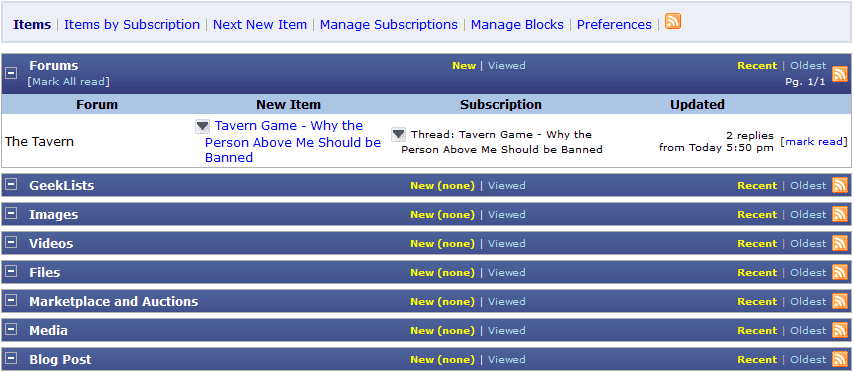 Bookmarks
Bookmarks provide a method of linking to a specific thread. Unlike subscriptions, bookmarks do not trigger notifications when replies or updates are made and unlike the Quickbar, bookmarks can only be used for threads. You can have as many as you like and the summary page provides more information.
To create a bookmark, click on the Bookmark link at the top of the thread. To remove a bookmark, click on Unbookmark. To view your bookmarks, you can choose the Bookmarks option from the 'Forums' menu. This menu shows information on the bookmarked thread, it's parent forum, and it's activity.

Managing Your Game Collection
See the VGG Game Collection Guide.
[What Links Here]