Article
Edit
|
History
|
Editors
VGG User Guide: Searching VGG
Welcome
One of the most used and useful functions on the site is the search bar. There are a few on the site and they will allow you to find games, series, hardware, characters, users, and even forum posts.
VGG Search Bars
The NavBar Search

The first one you will notice and the one you will most likely make the most use of, is the one found within the NavBar at the top of the page. This is a simple search, but a more complex one can be performed by clicking on the 'Advance Search' link (in yellow text), more on this below. The search will look for both primary and alternative names. Currently alternative names do not display on the search result pages. By default it is set to 'All' and will search all VGG Categories. Clicking the drop-down menu will allow you to restrict the search to the following:
Advanced Search
The advanced search can be found by clicking the 'Advance Search' link (in yellow text) found next to the search in the NavBar at the top of the page. From here you can search the description sections of all items in the database and use the filters to perform VERY specific searches.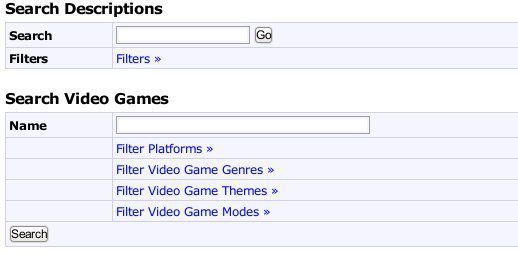 Clicking each of the 'Filter on' links will present options that will let you specify what you want it to find and what it should ignore by checking or unchecking the square boxes.
Understanding the Search Results
The search results page will list any items that match your search. As mentioned above, alternative names are searched, but the alternative name will not appear on the results page. So at first it may appear as though the item you were looking for is not listed, but actually it is, just under a different name.
An "All" search will have the results sorted by category, beginning with video game items. You may see multiple items with the same name. This may be because multiple items exist with the same title or sometimes duplicate entries are accidentally accepted into the database. If you find any such entries submit a correction so the admins can take care of it and you will earn yourself some GeekGold for doing so.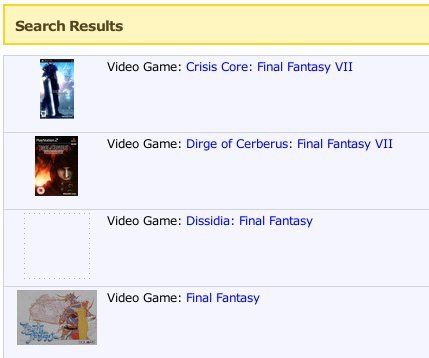 [What Links Here]