Article
Edit
|
History
|
Editors
Virtuacon setup

What is Google Hangouts?
Google Hangouts is a video conferencing technology from Google. It allows you and up to 9 of your friends to video-chat together. The technology is used for many purposes, but the RPG community has really latched onto the stable Hangouts platform for their Roleplaying needs. Here is what a typical RPG-related Google Hangout might look like: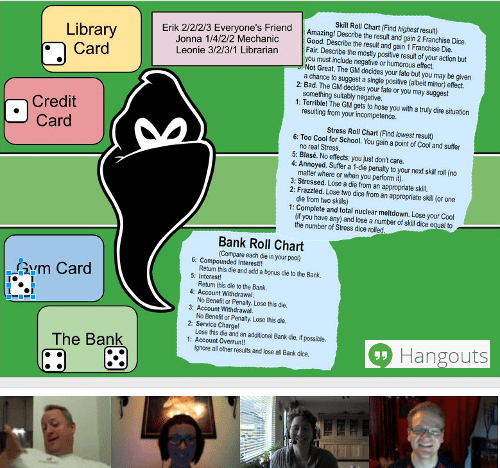 With Hangouts, you participate in a live conversation where you are seated at a virtual table. Hangouts is backed by Google's servers and thousands of RPGs have been played successfully from people across the globe. Hangouts is part of their Google+ offering and is totally free. It runs on any modern web browser on any modern platform (Windows, Mac, Linux, iOS). If you have any sort of Google account (gmail, etc) you are one small step away from having access to Google Hangouts. If you're not associated with Google in any manner, you're only two steps away :)
What Computer Equipment Will I Need?
You will need a microphone (also usually just built into the USB attached Logitech cameras or laptop cameras). It's also possible to use a modern Android device or an iPad2/3/4, iPad mini or iPhone 5 to connect to a Hangout.
How do I start a Hangout?
First, you need to get setup on Google Hangouts: https://plus.google.com/hangouts (and simply follow the instructions) You will want to be on a PC which has a video camera (a $30 USB Logitech works for many of us... the built-in camera on many modern laptops also works great).
Once you're up and running with the proper software (this mainly consists of a plugin for your Web Browser), you can start a Hangouts session by selecting Hangouts from your Google+ account or simply go to: https://plus.google.com/hangouts/_
You can do this right now just to test your equipment (you won't be connected to anyone for this test so feel free to experiment). You should see a little video of yourself and you can test your microphone (Hangouts will complain if it can't hear you -- in which case you'll have to fiddle with your microphone settings to get it un-muted). While waiting to invite others, you should see a display similar to this: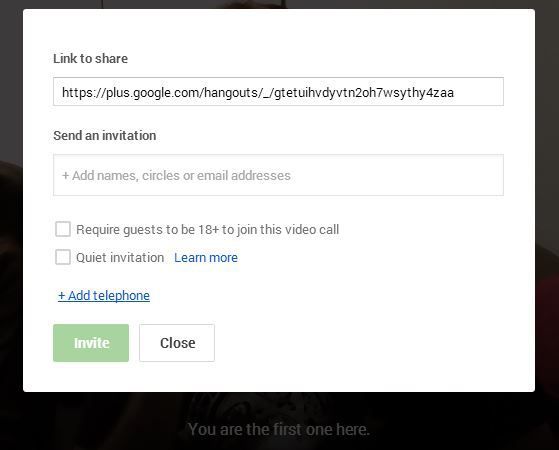 The Game Master can now invite all players via their G+ enabled email addresses (we will be gathering these for all players who sign-up for your event so you'll have them well in advance of the actual event). Once you are in the actual Hangout, you will see some icons on the upper right-hand side:



With these icons you can: Invite new people to the Hangout, Mute/unmute your microphone, Turn on/off your video display, Adjust video bandwith usage, and Disconnect from the Hangout.
What is Hangouts On Air?
Hangouts On Air is simply Google Hangouts that is given a link to broadcast via YouTube. Your session is recorded and streamed out live to a worldwide audience. Running a game via 'On Air' is optional - the Game Master must decide in advance if their game is broadcast and players know this before signing on to play at that virtual table. We will be utilizing the 'Hangouts On Air' for our Industry Guest Speakers so that any of the virtual convention goers can listen in.

Hangout On Air Howtos: Note: ignore the part about Events, the YouTube video needs to go to the events geeklist item

What Hardware/Browsers will run Google Hangouts?
Google suggests these specifications for running Google Hangouts.
More practically, any semi-modern machine running a reasonably current browser. We've had great success with Google's own Chrome but also plenty of success with Firefox, Internet Explorer and Safari. You can also participate as a player with a modern iOS device (iPad2,3,4,Mini or iPhone5 -- though we wouldn't recommend GMing from such a device). If you are having trouble getting it to run with a particular browser, try another (Chrome is likely has the highest compatibility since Google created it).
Best Practices for Google Hangouts?

We strongly recommend the use of headphones. This way, other voices do not feedback into your microphone. Good cameras/microphones tend to negate this issue somewhat, but it's always a pleasure to not have any feedback during the sessions.


Video is not required but does create a very friendly atmosphere just as if you were at a real table. Please consider using it.


If you are interrupted by real life (phone call, significant other, etc), simply indicate that you will be right back and put your microphone on MUTE (by clicking the microphone icon at the top of the Hangout).


If you must leave the game for an emergency, simply announce it and let the GM deal with the situation (if the GM must leave for an emergency, the game, obviously, ends).
Hangout Apps
There are countless apps you can add to your Hangout. Below you will find some of the most used ones.
Roll20
Roll20 is an application designed to handle virtual tabletops for RPGs. It contains a wealth of mapping tools, token manipulation, chat capabilities, die rolling functions, etc. Roll20 is an optional tool supported for Virtuacon. Roll20 integrates perfectly into Google Hangouts as an add-on Application. Not every game requires mapping tools (it tends to be most useful for grid-based combat such as found in Pathfinder or D&D) and so Roll20 is optional for use by your Game Master. As a player, you do not need a Roll20 account to use the Roll20 app within Google Hagouts. When you connect to a Hangouts game that uses Roll20, you will see the Roll20 icon on the left side.


When the Roll20 app is up and running, you will see the Roll20 map and tools in the center of the display:
Roll20 for Players
If you are a player you can watch this short (less than 3 minute) video to get the basics of Roll20.

Roll 20 for GMs
1. Go to http://www.roll20.net and on the main page select "Create Your Free Account". Fill in all information to set up your account.


2. After logging into Roll20, you can see any Campaign you have created or you can create a new campaign. In the image below, we've already created a Test Campaign.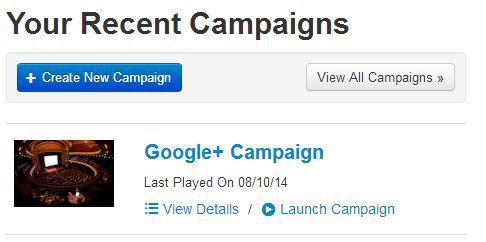 3. Once you have a Campaign and you select it, you can launch the campaign in two ways. Roll20 or via Google Hangouts. While it is possible to play a game only using Roll20, we are requiring that the game be run through Google Hangouts (more stable audio support and won't require players to have a Roll20 account). So you need to Launch in Google Hangouts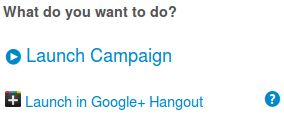 And finally, as a GM you should watch this 10 minute Roll20 tutorial will give you enough information to get rolling (pun intended)!
Hangout Toolbox
The Hangout Toolbox has an obvious use: you can display your name (this is called Lower Third). This can be your Characters name, or your real name, or something else. You can also choose a nice color. There is also an option to add an avatar, which will be displayed beside your name. Below this there is the option for a full screen Custom Overlay. Use a 1024x576 transparent PNG, and you can add some nice borders to your video.
The other tabs of the Toolbox allow you to control sound levels, add scaling/moving overlays to your head or stream text into your toolbox (for example Youtube Comments).
Dicestream
DiceStream is an dice rolling application used in Hangouts. It is very easy to use and requires virtually no setup time. It does not allow for features such as maps, music and special macros, but if all you are looking for is a way to roll your dice, this will suit your game's needs. You do not need an account to use the DiceStream app within Google Hagouts. When you connect to a Hangouts game that uses DiceStream, you will see the icon on the left side.


When you open the application, you will be presented with a selection of different dice. You can simply click on the + symbol next to the dice to add them to your cup and press Roll. Your results will show up underneath the dice selection, as well as at the top of your video feed, for everyone to see.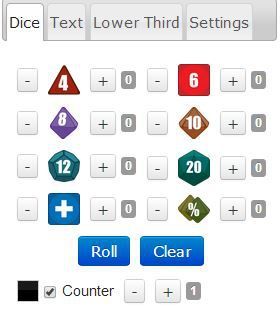 Dicestream also has an option to add a Lower Third like the Hangout Toolbox. This one looks more blocky, but allows for somewhat more text, and does not crop your chosen portrait to a circle.
Google Drive
Google Drive is an easy way to add handouts and maps to your game. You can also add a document where players can keep their collaborative notes. Be sure to tell the players that there is an undo option. One wrong click can mess up your map easily!
GM Tip: if you have two monitors, open your docs in a big browser window, not in the hangout. You will need the space!
On Air Tip: share your docs readonly to the Event. This lets viewer watch the documents while you are playing.
[What Links Here]