Article
Edit
|
History
|
Editors
podcast
There are many podcasts (also called netcasts) with themes that are relevant to board game players. Typical content of these podcasts include news, reviews, and interviews. Many audio podcasts also attempt to teach games these efforts have met with varying success, however video netcasts have more success with teaching games.
News is typically upcoming releases, but can also include notice of upcoming events or other game industry related information like sales figures, parts shortages, company closings, or stories about the game hobby being noticed by the outside world.
Reviews are any kind of commentary on games or game related activities that relate to games. These are usually filled with personal bias and catch phrases like elegant, fiddley, or brain burner. If you know the kind of games the podcaster likes then these are quite useful. Because podcasters help get the word out, they are on occasion presented with review copies - check the podcast's home page to see their game review policy. (Every good podcast should have a game review policy posted.)
Interviews generally center around industry personalities like designers or activists within the game hobby. Because the personalities being interview tend to have lest podcasting experience these are often tougher to listen through, but they frequently have good bits of information unavailable elsewhere.
Most podcasts are produced weekly, biweekly, or monthly. Podcasts that have not produced a new show within four to six months may be victims of podfading. If you notice a podcast that might be fading, change this page to reflect the production's status or ask the podcaster to update their status here, but don't delete the entry for that podcast.
To add information about a new podcast, add it to the list below, then copy this podcast_template to create an entry for it.
Game Podcast Directories and Networks
Active Audio Podcasts
Dutch Language
German Language
French Language
Italian Language
Portuguese Language
Slovene Language
Spanish Language
Swedish Language
Active Video Podcasts
Unknown Status Podcasts
GeekLists
Forum Threads
Cartoons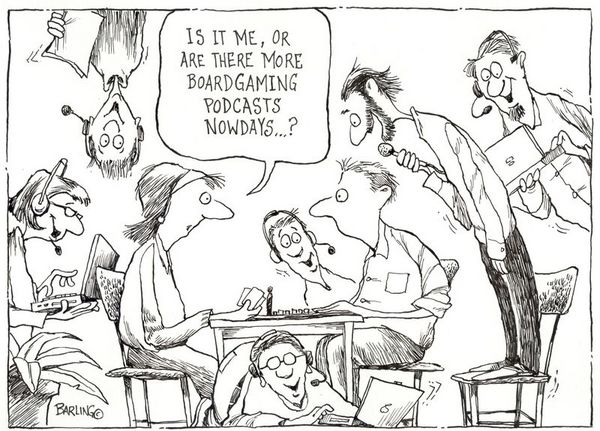 (Podcasting)
[What Links Here]